Schweizer Rezept – Swiss Food Discovery
Recipe "Appenzeller Käsefladen" in English below
Regionale Bezeichnung der Schweizer Wähe
Wääje, Chueche, Flade, Tünne und Turte – je nach Kanton wird Wähe anders genannt. So war es bei uns zu Hause noch Gang und Gäbe, dass am Freitag eine "Wääje" auf dem Tisch stand. Früher war die Wähe eine Fastenspeise und wurde meist Freitags, weil damals an diesem Tag kein Fleisch gegessen werden durfte, aufgetischt. Die Tradition, des "Wähen-Freitags" besteht bei uns in der Region immer noch und so gibt es immer noch viele Bäckereien, die Freitags Wähen im Angebot haben.
Ursprung Appenzeller Käsefladen
Vermutlich sind die Fladen früher aus Brotresten entstanden, die nach dem Backtag noch übrig geblieben sind. Diese wurden ausgewallt und mit dem belegt, was noch im Haushalt vorhanden war, wie z.B. Früchte oder Gemüse. Heute werden sie meist mit einem Mürbteig, bzw. Kuchenteig zubereitet.
Rezept für Appenzeller Käsefladen
Auch der Appenzeller Käsefladen wird mit einem Brotteig zubereitet. Dieser wird mit Zwiebeln und Appenzellerkäse belegt und mit einem Guss aus Milch, Rahm und Ei übergossen. Gewürzt wird er mit einer Prise Anis. Da bei uns Zwiebeln auf der Wähe oder Pizza, und auch auf dem Flammkuchen, nicht gegessen werde, habe ich diese weggelassen. Es wäre schliesslich schade um die guten Zutaten gewesen, wenn der Appenzeller Käsefladen verschmäht worden wäre. Zusammen mit einem frischen Salat ist er eine tolle Mahlzeit.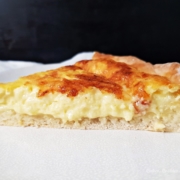 Rezept drucken
Rezept für Appenzeller Käsefladen
Der Appenzeller Käsefladen ist zusammen mit einem frischen Salat eine deftige, gut sättigende Mahlzeit
Equipment
rundes Wähenblech, 26 bis 28 cm Durchmesser
Zutaten
Für den Brotteig
8

g

Hefe

½

TL

Zucker

300

g

Weissmehl

1

TL

Salz

200

ml

Wasser
Für den Belag
1

Zwiebel

200

g

Appenzeller Käse

am Stück
Für den Guss
3

EL Weissmehl

100

ml

Milch

250

ml

Vollrahm

2

Eier

Salz

1

Prise

gemahlenen Anis
Anleitungen
Brotteig
Mehl mit dem Salz und der Hefe in einer Schüssel mischen. Wasser zufügen und alles zu einem festen Teig kneten. Dafür den Teig für ca. 5 Minuten mit der Haushaltsmaschine kneten. Den Teig an einem warmen Ort, zugedeckt ums Doppelte aufgehen lassen.

Den Boden des Bleches mit Backpapier belegen oder gut einfetten. Den Teig auf etwas Mehl rund auswallen und danach auf das vorbereitete Blech legen, Den Teigboden mit einer Gabel einstechen.

Den Backofen auf 200 °C Unter- und Oberhitze vorheizen
Belag
Falls Zwiebeln verwendet werden, diese schälen und in feine Streifen schneiden. Den Appenzeller Käse grob reiben.
Guss
Für den Guss das Mehl mit der Milch glatt rühren. Rahm und Eier zufügen, würzen und alles gut verrühren.

Die Zwiebeln und den Käse auf den Teigboden verteilen und anschliessend den Guss darüber giessen.
Backen
Das Blech mit den Fladen in den Backofen schieben und für ca. 40 bis 50 Minuten backen. Den Käsefladen warm servieren.
Swiss Food Discovery
Erst kürzlich bin ich einer kleinen Gruppe beigtretten, welche es sich zum Ziel gemacht hat, Schweizer Gerichte aus der Vergessenheit zu befreien und bekannt zu machen. Jeden Donnerstag veröffentlichen zwei Teammitglieder ein Schweizer Rezept auf Instagram und in ihren Blogs. Dabei ist bereits eine ansehnliche Rezeptesammlung entstanden.
Englische Übersetzung
Origin of "Wähe"
Wääje, Chueche, Flade, Tünne and Turte – depending on the Swiss canton, Wähe is called differently. In former times the Wähe was a fasting food and was therefore eaten on Friday, because at that time no meat was allowed to be eaten on this day. The tradition of "Wähen-Freitag"; still exists in our region and so there are still many bakeries offering Wähen on Fridays.
Recipe for Appenzeller Käsefladen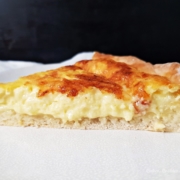 Rezept drucken
Recipe of Appenzeller Käsefladen
The "Appenzeller Käsefladen" (cheese flat bread) ist together with a fresh salad is a hearty, well-saturated meal.
Equipment
Round bakingsheet, 26 to 28 cm diameter
Zutaten
For the bread dough
8

g

fresh yeast

½

TL Sugar

300

g

white flour

1

teaspoon

salt

200

ml

water

1

onion
For the filling
200

g

Appenzeller cheese in one piece

3

tbsp

white flour

100

ml

milk

250

ml

full cream

2

eggs

salt

1

pinch

of ground aniseed
Anleitungen
Bread dough
Mix the flour with the salt and the yeast in a bowl. Add water and knead to a firm dough. Knead the dough for about 5 minutes with the household machine. Let the dough covered rise to double in a warm place.

Cover the bottom of the bakingtray with baking paper or grease well. Roll out the dough on a little flour and place it on the prepared baking tray, prick the bottom of the dough with a fork.

Preheat the oven to 200 °C lower and upper heat.
Filling
If onions are used, peel them and cut them into fine strips. Grate the Appenzell cheese coarsely.

For the filling, stir the flour with the milk until smooth. Add cream and eggs, season and mix well.

Spread the onions and cheese on the bottom of the dough and then pour the filling over it.
Baking
Place the baking tray with in the oven and bake for approx. 40 to 50 minutes. Serve the Appenzeller Käsefladen warm.
Hier findest du die bisherigen Rezepte / Here you can find the previous recipes :
Salzige Rezepte / Salty recipies
Asperges du Valais (CH) by Anna My Sweet Mouette
Cornettes à la viande et compote de pommes (CH) by Mirjam Food gem searcher
Croquettes de riz au parmesan (CH) by Silvie Citronelle and Cardamome
Emincé de veau à la Zurichoise (Zurich) by Ileana _Foodie75_
Filets de perches du léman (cantons de vaud et Genève) by silvie Citronelle and Cardamome
Féra à la Lucernoise (Lucerne) Ileana _Foodie75_
Goulache bernoise (Berne) by Mirjam Food gem searcher
Minestrone (Tessin) by Roberta La tana delle coidea
Papet vaudois aux poireaux (Vaud) by Silvie Citronelle and Cardamome
Paupiettes de veau tessinoise (Tessin) by Silvie Citronelle and Cardamome
Polenta Ticinese (Tessin) by Roberta La tana delle coidea
Quiche Bâloise (Bâle) by Dolors Bruixes a la cuina
Riz Casimir (CH) by Silvie Citronelle and Cardamome
Rösti CH by Sven The Food Corner
Rys und Phor (Uri) by Silvie Citronelle and Cardamome
Salade de cervelas CH – by Ileana by Ileana _Foodie75_
Soupe à l'Orge des Grisons (Grisons) by Aurélie Long is the road
Soupe d'ortie (CH) by Myriam Mymi-see
Soupe de poisson du Lac (Vaud) by Myriam Mymi-see
Tarte aux oignons de Schaffhouse (Schaffhouse) by Sven The Food Corner
Tarte Choléra (Valais) by Aurélie Long is the road
Tarte saviesanne (Valais) by Anna My Sweet Mouette
Tartelette Vaudoise aux courgettes parfumée à la menthe (Vaud) by Silvie Citronelle and Cardamome
Riz Casimir (CH) by Silvie Citronelle and Cardamome
Rösti CH by Sven The Food Corner
Rys und Phor (Uri) by Silvie Citronelle and Cardamome
Salade de cervelas CH – by Ileana by Ileana _Foodie75_
Soupe à l'Orge des Grisons (Grisons) by Aurélie Long is the road
Soupe d'ortie (CH) by Myriam Mymi-see
Soupe de poisson du Lac (Vaud) by Myriam Mymi-see
Tarte aux oignons de Schaffhouse (Schaffhouse) by Sven The Food Corner
Tarte Choléra (Valais) by Aurélie Long is the road
Tarte saviesanne (Valais) by Anna My Sweet Mouette
Tartelette Vaudoise aux courgettes parfumée à la menthe (Vaud) by Silvie Citronelle and Cardamome
Süsse Rezepte / Sweet recipies
Brot / Bread
Cuchaule de la bénichon (Fribourg) by Silvie Citronelleandcardamome
Pain à la bière (CH) by Elvira Los cerezos en flor
Pain au seigle /Wallis bread (Valais) by Aurélie Long is the road
Pain Tessinois (Tessin) by Silvie Citronelleandcardamome
Petits pain du 1er pour la fête national suisse (CH) by Silvie Citronelleand Cardamome
Tresse au beurre or Zopfbrot (CH) by Elvira Los cerezos en flor
Inspirationsquelle: Appenzellerland
https://cakescookiesandmore.ch/wp-content/uploads/2019/10/Appenzeller-Käsefladen.jpg
1200
1600
Tamara
https://cakescookiesandmore.ch/wp-content/uploads/2018/06/katherineschmidt.png
Tamara
2019-10-03 06:59:13
2020-04-18 15:04:29
Rezept für Appenzeller Käsefladen